Planning a Landscape Design
If you are planning to redesign your landscape, there are some things you should keep in mind. Firstly, you should consider what types of plants you already have in your yard. You can draw out these areas to get an idea of how much space you will need to replant your plants. Secondly, you should note down the different functional areas of the yard. These may include play areas, recreation areas, and storage areas. Additionally, you should also take note of any walking paths in the yard. Experts landscapers can assist you in planning your new landscape, and deliver the highest quality landscape.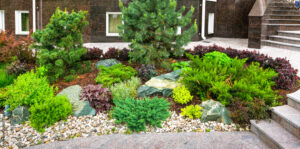 It is also important to keep in mind the functional areas of your yard, including the front door and public areas or your outdoor living space. For example, if you have children, you can put plantings along the walkway to direct guests. For a family with a small yard, you may want to consider a circular or double driveway. Using bright flowers or other materials will also draw their attention to the front door. This is similar to figuring out how each room in a house is used. Generally, you'll need to design a private, public, and service area. For this, you'll want to use a bubble diagram to plan out your overall landscape space. For general use areas, you can also use tracing paper to sketch out ideas. Once you've completed the bubble diagram, move on to the next step.
When you're planning a landscape design, you'll want to consider the needs of the people using the yard. There are different needs for each group. Think about how you use the space today and what you'd like it to be for the future. Lastly, think about your budget. While some homeowners choose to do do-it-yourself landscaping, this can lead to errors in plant selection and installation. Whether you decide to hire a professional landscape designer will ultimately depend on your preferences.
Landscaping is a combination of natural and man-made features. These features are geographically defined and include plants, humans, and different types of man-made constructions. Moreover, a well-constructed landscape can improve the quality of life of people living in the area. Landscapes can be valued on several levels, including aesthetically, functionally, and environmentally. In addition to aesthetic and environmental factors, there are other important aspects to consider when designing a landscape.
The approach to landscape management has been developed to integrate multiple lands uses. It aims to integrate multiple lands uses in a holistic manner and balance competing demands on land. It takes into account physical landscape features as well as internal and external socio-economic and political drivers. It also includes mechanisms that minimize conservation trade-offs. As a result, the design of a landscape will be more integrated than ever before.
The design of a landscape is largely based on the general form of the plants. This is largely dependent on genetics and environment but is also a useful way to complement the architecture of your house. You can choose a tree or shrub with a rounded form, while conical plants tend to dominate the landscape because of their prominent form. However, you can also create a natural aesthetic by clustering plants of the same type.
A landscape can be defined as the visible features of a piece of land. It may include the natural features and characteristics of a particular area, or it may be the way people perceive natural resources and cultural resources. It may also include buildings and structures, and a sense of open space. The definition of landscape is constantly changing and may be defined by varying cultural contexts. So, when planning a landscape design, you should be mindful of the unique characteristics of your region.
In terms of aesthetics, a landscape is a representation of the world in which the beholder sees it. For this reason, it's important to choose an appropriate landscape design according to your specific preferences. You may find some examples of landscape design in the following sections. These examples are a great starting point for designing a landscape that suits your needs. In addition, you may also find collocations that you can use with the word landscape.